Monthly Meal Planner
The Ultimate Meal Prep Ideas With Chia Seeds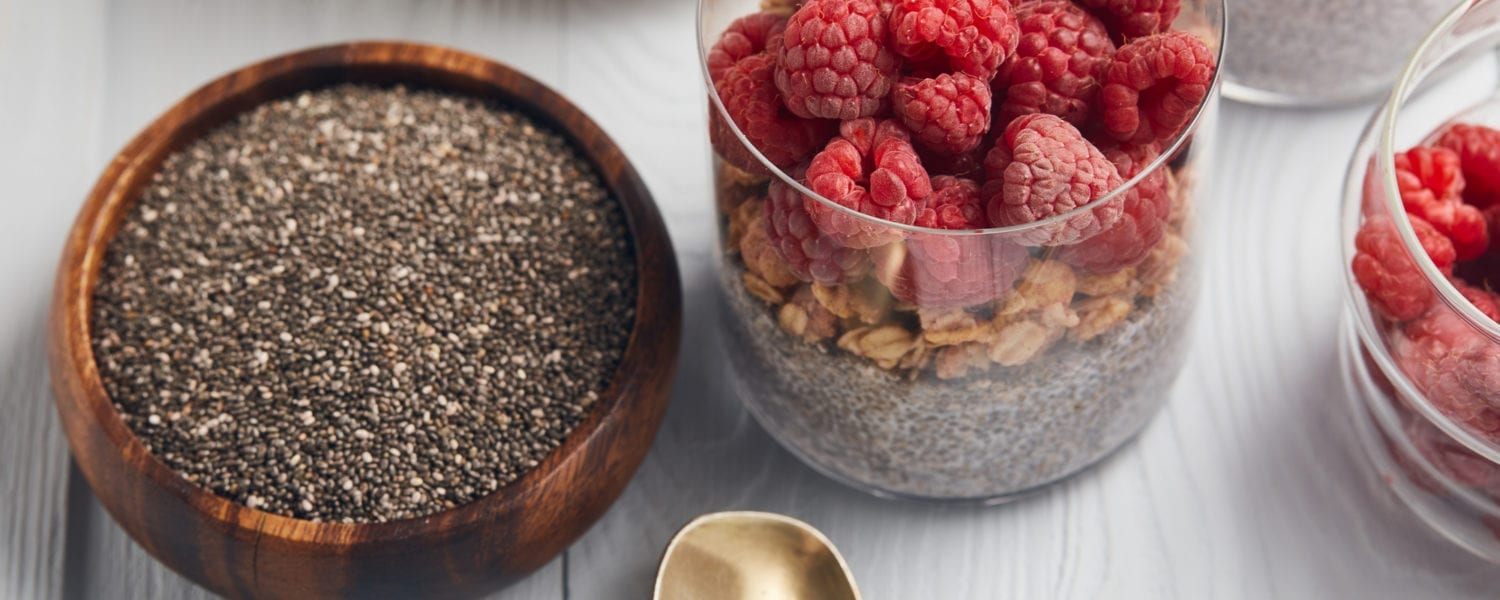 Chia seeds are very popular among health enthusiasts. This superfood is said to be the best substitute for grains because consuming just one portion can fill up your stomach for several hours. Learn more about the benefits of chia seeds and get ideas for chia seed recipes.
The best thing about it? It's a versatile food that you can incorporate simply into your diet. Whatever diet you follow, whether ketogenic, paleolithic, or anything else, it is always a great idea to consume Chia seeds.
How much chia seeds per day to lose weight
But what exactly are Chia seeds, and how do they help people manage their health? In this complete and ultimate guide, we will tackle everything you need to know about this superfood including how much chia seeds per day to lose weight!
This will include the health benefits of Chia seeds, nutritional facts about the superfood, free recipes, and the truth behind the claim that it aids weight loss. Read on!
First things first – what are Chia seeds?
Before we go any further, we need to learn some basic facts about Chia seeds which will help us to understand understand the power of this superfood later on.
What do chia seeds look like…
Chia is a superfood that has a lot of nutritional benefits. The seeds look like small black grains with grey and white spots, about the size of a black peppercorn. Chia originated from Salvia Hispanica, which is a flowering plant belonging to the mint family.
This plant is native to Central America. In Southwestern USA and Mexico, it is closely related to Salvia Columbariae.
Chia seeds may be small, but they're packed with lots of vitamins, antioxidants, omega-3 fatty acids, protein, and fiber which make them a superfood essential to every kind of diet out there. They will keep you healthy, strong, and full.
This superfood is believed to have been essential to the diet of the Aztecs. Since the beginning of the 21st century, Chia has been commercially grown in Guatemala, Mexico, Argentina, Bolivia, Nicaragua, Ecuador, and Australia, where they are also found growing natively. In Kentucky, farmers have developed various varieties of Chia seeds for cultivation.
Chia seeds are popular among health enthusiasts primarily because they are a great source of omega-3 fatty acids. In addition, Chia also contains 10 grams of fiber per ounce. The seeds also contain minerals such as calcium, iron, magnesium, zinc, and protein.
Also Read: 

30 High-Fiber Foods You Should Be Eating
Chia seeds can form a part of any diet due to their wide range of health benefits and nutritional values. As well as helping with weight loss, they can also improve overall health and wellness.
Chia is versatile enough that you can eat it on its own, as a topping for your main meal, as a sinker for your drink, or as a topper for your healthy sweets. You can enjoy munching on Chia seeds with a dessert or a savoury meal.
Studies show that incorporating Chia seeds into a healthy diet can improve cardiovascular risk factors. Consuming Chia seeds also helps to lower cholesterol and blood pressure. And as if that wasn't enough, research also suggests that Chia seeds help improve metabolism as well.
What are the nutritional benefits of Chia seeds?
From just 100 grams of Chia seeds, you get a lot of health benefits. Their calorie count is at 458 calories. They contain a total of 31 grams of fat, which is 47% of your daily value based on a 2,000 calories per day diet. This total fat is composed of 3.3 grams of saturated fat, 24 grams of polyunsaturated fat, 2.3 grams of monounsaturated fat, and 0.1 grams of trans fat.
Chia contains 0 mg cholesterol, 16 mg Sodium, 407 mg Potassium, and 42 grams of total carbohydrate, which is 14% of your daily value, again based on a 2,000 calories per day diet. The dietary fiber content of Chia is 34 grams. It also contains 17 grams of protein.
A 100 gram serving of Chia seeds contains 1% of your daily recommended dose of Vitamin A, 2% of your Vitamin C, 63% of your Calcium, 42% of your Iron, and 83% of your Magnesium.
To give a smaller measurement, an ounce of chia seeds contains about 140 calories. It contains 4 grams of protein, 12 grams of carbohydrates, and 9 grams of fat. Most of these carbohydrates are made up of fiber.
This makes Chia one of the healthiest foods in the world. Aside from the fact that this superfood is beneficial to our bodies, it also improves brain performance (benefits which are both backed by science!).
Chia seeds can help reduce chronic inflammation
When you get an injury or infection, your body's natural response is to show inflammation in the affected area. For instance, when your skin turns swollen and red, it's often an indication that the skin may have caught infectious agents.
Although obvious inflammation is often straightforward and easily treated, sometimes internal inflammation can be related to much more life-threatening illnesses such as cancer and heart disease.
Chronic inflammation occurs when you have a poor diet and lack frequent exercise. Chia is just one of the superfoods that can help lessen chronic inflammation with the potent vitamins and minerals that it contains.
Research suggests that consuming just 37 grams of Chia seeds every day can reduce inflammatory markers in diabetics by 40%.
Chia seeds can help reduce blood sugar
Studies also show that Chia seeds can help improve blood sugar control. The superfood stabilizes and reduces blood sugar levels, helping to ensure that people with high blood sugar can maintain better health.
Chia seeds can also be used as a topping for bread. Studies have shown that eating bread with chia seeds can work to reduce blood sugar spikes. Try a wheat bread with chia seeds on top for a hearty breakfast! 
Chia seeds help to strengthen bones
Chia seeds are an excellent source of the nutrients and minerals that are essential to maintaining healthy bones. Just 28 grams of Chia seeds surprisingly contains a whopping 18% of calcium, which is much higher than the amount found in most dairy products.
This is particularly helpful to people who are lactose intolerant.
On top of all that, Chia also contains magnesium, phosphorus, and protein, all of which are nutrients that help to strengthen your bones.
Chia seeds may help protect you from heart disease
Since this superfood is an excellent source of fiber, omega-3s, and protein (all of which are necessary for a healthier heart) it can help to lower your risk of heart illnesses. Moreover, Chia can also reduce risk factors for triglycerides and big belly.
Omega-3 is made up of good cholesterol and good oil, something which is essential to our bodies. Chia also helps to lower blood pressure, particularly in individuals that have high levels of hypertension.
But of course, whilst Chia can help reduce heart risks, it is important to accompany your healthy eating habits with proper exercise and a wholesome lifestyle. It is best to avoid bad habits such as smoking or drinking alcohol on a regular basis.
Chia seeds can aid weight loss
Chia contains a large amount of fiber and protein which are both vital to help you lose weight in a healthy and safe way. Whilst crash diets can be popular for weight loss, these can be harmful to your body, particularly if they do not allow you to access enough fiber and protein.
Do chia seeds expand in your stomach? Because Chia contains soluble fiber, it is able to absorb water. This means that the seeds expand once in the stomach. This gives you a feeling of fullness and in turn slows down your cravings. This explains why eating Chia seeds can make you feel fully satisfied.
The protein content of Chia seeds also helps to control appetite. Research shows that consuming Chia seeds in the morning can help reduce your food intake for the entire day. So bulk out your breakfast with a hearty dose of Chia seeds! 
▶ LEARN WHAT YOU SHOULD BE EATING TO MEET YOUR WEIGHT LOSS GOAL DATE
An excellent source of quality protein
Chia seeds are an excellent protein source. They contain 14% protein by weight – that's a high percentage of protein when compared to other vegetables. Chia seeds also contain essential amino acids that help your body to use stored protein.
Protein is always an important factor in any diet as it has many health benefits and can aid weight loss. Consuming foods that contain a high level of protein reduces appetite while keeping the body healthy.
Chia seeds are a particularly good protein source for those who eat few or no animal products. 
Chia seeds contain healthy carbs
Almost all of the carbs contained in Chia are made up of fiber, which is a big plus. Whilst an ounce of chia seeds contains 12 grams of carbohydrates, 10 to 11 of these actually consist of fiber. Your body does not digest fiber, which means that it doesn't remain in your system and cause you to gain weight.
Even though it is a form of carbohydrate, fiber does not increase blood sugar. Unlike other carbs like starch and sugar which our bodies do digest, fiber has no negative effect on your health. As a matter of fact, only one gram per ounce of Chia is actually digestible. Chia is therefore a fantastic low-carb superfood worthy of adding to any diet.
We have also talked about the fact that Chia seeds absorb water. Not only that – one seed can absorb 10 times its weight in water. What happens when something absorbs liquid? That's right, it expands. Again, this explains why we feel so full after eating Chia seeds.
A final fantastic benefit of the fiber contained in Chia is that it is also consumed by the friendly bacteria in our intestines. This is important for a healthy digestive system.
As Chia seeds are basically 40% fiber, they are considered to be one of the best sources of fiber on the planet.
Chia seeds are a good source of antioxidants
Antioxidants promote overall good health – healthy skin, healthy hair, and a strong immune system. Antioxidants also combat free radicals that are responsible for damaging cells.
Free radicals contribute to aging – and even worse, can lead to illnesses such as heart disease and cancer. Help yourself to look and feel young for longer by including Chia seeds in your diet.
How to eat Chia seeds
There are many ways to incorporate Chia seed diet plan as it is a really versatile superfood. It can be served for breakfast, lunch, snacks, and dinner. The simplest way to eat Chia seeds is by snacking on them after grinding them or soaking them in water – easy peasy!
This is how to do it: take 1.5 tablespoons of Chia seeds and soak them in one cup of water for 30 minutes. If you want to get the most nutrients out of them as possible, you can leave them soaking for two hours. For easier ingestion, you can grind the seeds and turn them into a perfectly healthy flour substitute.
If you want to make your dessert healthier, top it with Chia seeds. As they absorb liquid, Chia seeds become smooth when mixed with desserts and smoothies. You can also use them as toppings for pudding.
Are you on a vegan diet? Chia seeds can be used as a substitute for eggs as well! You can do this by grinding some Chia seeds and mixing the flour with three tablespoons of water. Leave the mixture for a few minutes and it will form a yolk-like texture.
You really can include Chia seeds in everything. Here are a few examples: 
Oatmeal and blueberries
Avocado smoothie
Tuna omelette
Coconut pancakes
Chicken salad
Banana quinoa
Pastries such as muffins, cupcakes, and donuts
Parfait
Dark chocolate mousse
Bulletproof coffee
Mashed potato
Peanut butter oat bars
Non-fat milk
Healthy milktea
Berry poke bowl
Strawberry yogurt
Chia pudding
Soup
Chia Seed Recipes
Chia Seeds and Coconut Milk Pudding
Ingredients:
1/2 cup chia seeds
1/2 cup diced fresh strawberries
2 cups of coconut milk
1 pinch salt
1/2 teaspoon vanilla extract
6 tablespoons unsweetened coconut milk
1/4 teaspoon ground cinnamon
1 tablespoon agave nectar
Directions:
Place the Chia seeds in a bowl
Whisk together the coconut milk, cinnamon, agave nectar, unsweetened coconut milk, vanilla extract, and salt in a separate bowl
Mix the Chia seeds together with the pudding mixture
Leave the pudding and Chia seed mixture soaked together until thickened for 20 minutes
Cover the bowl with plastic wrap and put it in the refrigerator overnight
Serve for breakfast or snacks
Chia Seeds and Oat Crackers
Ingredients:
1 cup oats
⅓ cup raw sunflower seeds
⅓ cup sesame seeds
¾ cup raw pumpkin seeds
3 tablespoons poppy seeds
3 tablespoons chia seeds
1 teaspoon kosher salt
1 tablespoon pure maple syrup
1 tablespoon vegetable oil
Directions:
Toss the oats, sunflower seeds, Chia seeds, sesame seeds, pumpkin seeds, and poppy seeds together in a large bowl
Season with salt to taste
Mix water, maple syrup, and oil in a separate bowl
Pour the syrup mixture over the oat mixture and combine until thick
Leave for about 10 minutes until the mixture absorbs the liquid
Form the mixture into cracker shapes and place on a baking sheet
Bake the mixture for 15 to 20 minutes until golden brown
Turn the crackers over and bake again for 15 to 20 minutes
Let the crackers cool
Break the crackers into pieces by hand
Energy Bars with Chia Seeds
Ingredients:
2 cups macadamia nuts
6 ounces dried no-sugar-added pineapple (about 2 cups), coarsely chopped
⅓ cup melted virgin coconut oil
1 cup unsweetened coconut flakes
1¼ teaspoons kosher salt
1 tablespoon chia seeds
Directions:
Pulse pineapple, nuts, coconut flakes, chia seeds, salt, and oil in a food processor until the mixture forms into a puree
Put the mixture into a baking sheet and top it with a plastic wrap
Chill the mixture in the refrigerator for about an hour
Slice into 12 bars and serve
Chia Seed Pancakes with Bacon
Ingredients:
1 cup all-purpose flour
½ cup whole wheat flour
3 tablespoons brown flaxseed, chopped
2 tablespoons sugar
1 tablespoon Chia seeds
1½ teaspoons baking powder
½ teaspoon baking soda
¾ teaspoon kosher salt
12 ounces bacon
2 large eggs
1¾ cups buttermilk
Vegetable oil (for skillet)
Pure maple syrup (for serving)
Directions:
Prepare the pancake mix – combine the all-purpose flour, baking powder, baking soda, whole wheat flour, flaxseed, sugar, salt, and Chia seeds in a ziplock plastic bag
Cook the bacon
Mix eggs and buttermilk
Scoop out the batter and cook into a skillet
Flip the pancakes until cooked
Plate and serve
Fruit and Yogurt Cups
Ingredients:
2 cups plain yogurt
½ cup Blueberry–Chia seed jam
Toasted almonds
Toasted unsweetened coconut flakes
Cacao nibs
Raw sunflower seeds
Directions:
Scoop out the jam and pour over the bottom of the cups
Add the yogurt
Top with cacao nibs, toasted almonds, coconut flakes, and sunflower seeds
Serve
Can't get enough of Chia seeds? Save these ideas!
Strawberries and Cream Chia Pudding
Coconut Chia Protein Pancakes
Quinoa Chia Seed Protein Bars
Pumpkin Pie Oatmeal
Orange Vanilla Bean Chia Pudding
Lemon Muffins with Chia Seeds and Honey Glaze
Apple Mug-Muffins with Chia Seeds
Blackberry Chia Jam
Toasted Oatmeal with Strawberry Chia Jam & Coconut Whipped Cream
Lemon Chia Seed Pancakes with Roasted Strawberries
Peach Chia Cobbler
Mocha Chocolate Chunk Chia Brownies
Chai Spiced Chia Pudding with Pomegranate
Grain-free Thumbprint Cookies with Chia Berry Jam
Honey Lime Chia Dressing with Fruit Salad
Creamy Chocolate Hazelnut Shake with Chia
Chia Seed Wafer Cookies
Cheesy Chia Bread
Cauliflower Medallions with Chia Seeds
Quinoa Salad with Chia Chipotle Dressing
Raspberry Chia Pudding
Chocolate and Peanut Butter Chia Mousse
Apple Cinnamon Chia Seed Pudding
▶ Want more recipes: 
Create your customized meal plan on Nutiro that include all sort of good foods
How good are Chia seeds for you?
The answer is simple: it's good, it's healthy, so enjoy it! In theory, there is actually no limit to how many grams of Chia seeds you can eat per day – but it may depend on how full they make you feel! If an ounce or two is enough for you, then go for it. Start trying some of the chia seed recipes to get started.
Listen to what your body needs. If you feel like munching more Chia seeds, feel free to do so. The only thing that you should keep in mind is the calorie count – particularly if you are on a calorie-restricted diet.
For instance, if you can only consume 1,500 calories per day, perhaps a 100 calorie Chia seed serving would be enough to satisfy your tummy.
Does Chia really help people lose weight? Yes, but in conjunction with proper diet and exercise. If you're committed to your goal, whether to lose weight or simply manage it, you will always need to live a healthy lifestyle as well as watching what you eat.
A simple morning jog can boost your energy for the entire day and burn a few calories at the same time. The best post-workout snack would be a banana smoothie topped with Chia seeds. If you're exercising in the afternoon, load up with chicken salad and Chia seeds to fuel your body beforehand.
Are there any side effects caused by eating Chia seeds?
Most people feel normal after consuming Chia seeds. However, you might feel a little bloated if you eat too much! Remember, too much of anything is usually a bad idea.
Although there are no records of negative side effects resulting from eating Chia seeds, it's always best to simply eat the amount that you think your body needs. If you already feel full, save the leftover Chia seeds for tomorrow.
To avoid bloating, follow your calorie count and divide up the amount of Chia seeds you would eat in a day. For example, let's say you are able to eat 100 calories of Chia seeds in a day – you can distribute this by eating half for breakfast and the other half at snack time.
One of the symptoms of eating too much fiber can be abdominal pain. This is usually mild and is not harmful. There are no dangerous side effects that result from eating too much Chia, but it's better to plan your meals to avoid any unnecessary discomfort!
Summary 
Chia is a superfood which many health enthusiasts trust when it comes to maintaining a healthy body. It is packed with vitamins, minerals, and antioxidants that fight free radicals and protect your body from health risks. This superfood is also recommended if you are working towards weight loss due to the good amount of fiber that it contains.
Chia seeds can be added into any meals without any difficulty – they can be eaten for breakfast, lunch, dinner, or simply as a snack. With proper exercise, a lifestyle free from negative habits, and smart meal planning incorporating Chia seeds, you can achieve a fit and healthy physique.
▶ Take advantage of our Nutiro Ultimate Guide on How to Meal Plan that gives you the flexibility to enjoy other meal planning options such as keto, paleo, vegan, gluten-free, etc.