Monthly Meal Planner
Insanely Good Keto Lunch Ideas For Low Carb Lovers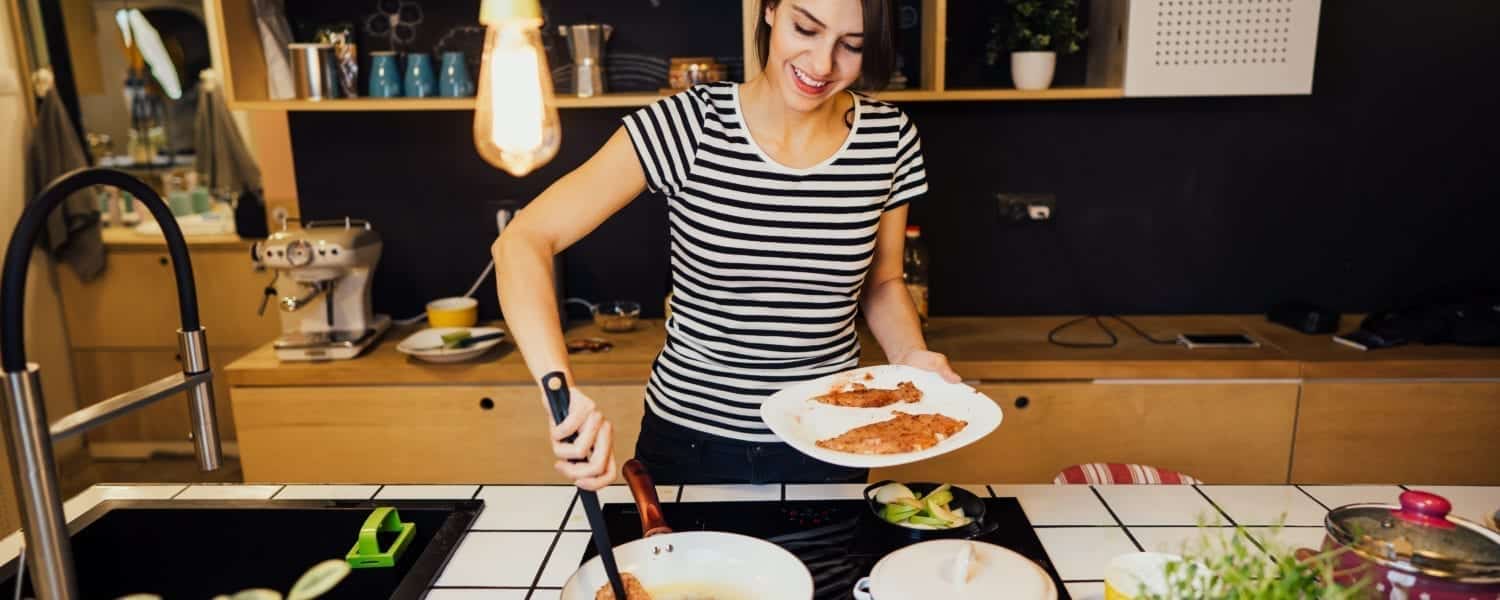 Lunch on the keto diet can be full of savory, flavorful, and satisfying dishes sure to please any palate.  However, sometimes coming up with keto lunch ideas can be challenging. Ideally, you want recipes that are quick to prepare or have very few ingredients, as any random food generator can show you.  Keeping it simple but full of variety is a great way to stave off any boredom that might discourage your new diet.
When looking for keto lunch ideas, planning ahead can be a roadblock, so it's recommended to batch cook your favorite proteins ahead of time.  This means when you're working on how to meal plan you should pencil in time for taking care of your chicken, turkey, or beef.  Using a keto meal generator can help you find random food recipes that are all easy to make and have few ingredients.  
Read Keto Meal Prep Part 1 and Part 2 to tackle keto meal prep like a pro!
Check Out These Easy Keto Lunch Ideas
Keto Pesto Salmon with Roasted Veggies
It's no secret that salmon and zucchini are an excellent pair.  And salmon alone is one of the most keto-friendly sources of protein thanks to its high-fat content.  (27 minutes, 7.5 carbs)
Creamy Broccoli Cheese Soup
There are countless cheese and broccoli recipes out there.  Not only is this dish rich and filling, you only need five ingredients to make it.  (20 minutes, 4 net carbs)
Keto Ground Beef Stroganoff
Classic beef stroganoff is served over pasta noodles.  Replace those with spaghetti squash and you have a keto-friendly variation of this classic Russian dish.  (20 minutes, 4.8 net carbs)
Vegetarian Keto Lunches
Keto Cheesy Marinara Chicken
If you don't have any keto-friendly marinara sauce on hand, you can easily make your own.  You only need crushed tomatoes, olive oil, Italian seasoning, and salt.  Feel free to add a garlic clove and a pinch of red pepper flakes as well.  (20 minutes, 5 net carbs)
Low Carb Keto Egg Noodles
This is a favorite dish for keto dieters everywhere.  You can add vital wheat gluten to give it its classic chewy texture without adding carbs.  Just be sure not to overcook it! (7 minutes, 0 net carbs)
Low Carb Cucumber Cream Cheese Sandwiches
Another five-ingredient dish, this one can be enjoyed whole or sliced up into minis as a snack. (15 minutes, 0 net carbs)
Dairy-Free Keto Lunches
Keto Stir Fry With Shrimp
Not only is this dish low-carb, sugar-free, and keto-friendly, it's also an easy one-pan recipe.  You can use beef or chicken instead of shrimp if you prefer.  (25 minutes, 10 net carbs)
Keto Korean Ground Beef Bowl
Traditional Korean beef recipes usually have sugar in the sauce, and rice on the side.  Instead, serve it over cauliflower rice.  It's also an excellent dish that can be made, frozen, and reheated later. (20 minutes, 9 net carbs)
Sausage Egg Roll in a Bowl
Not only is this dish low carb, but it can also be paleo and gluten-free as well.   (15 minutes, 5 net carbs)
To complete the meal, throw in some things on the side, or have them handy as healthy snacks.  Go for things like cucumber slices, pumpkin seeds, sunflower seeds, hard boiled eggs, or blueberries.  Enjoy!
Take advantage of our Nutiro Ultimate Guide on How to Meal Plan that gives you the flexibility to enjoy other meal planning options such as keto, paleo, vegan, gluten-free, etc.